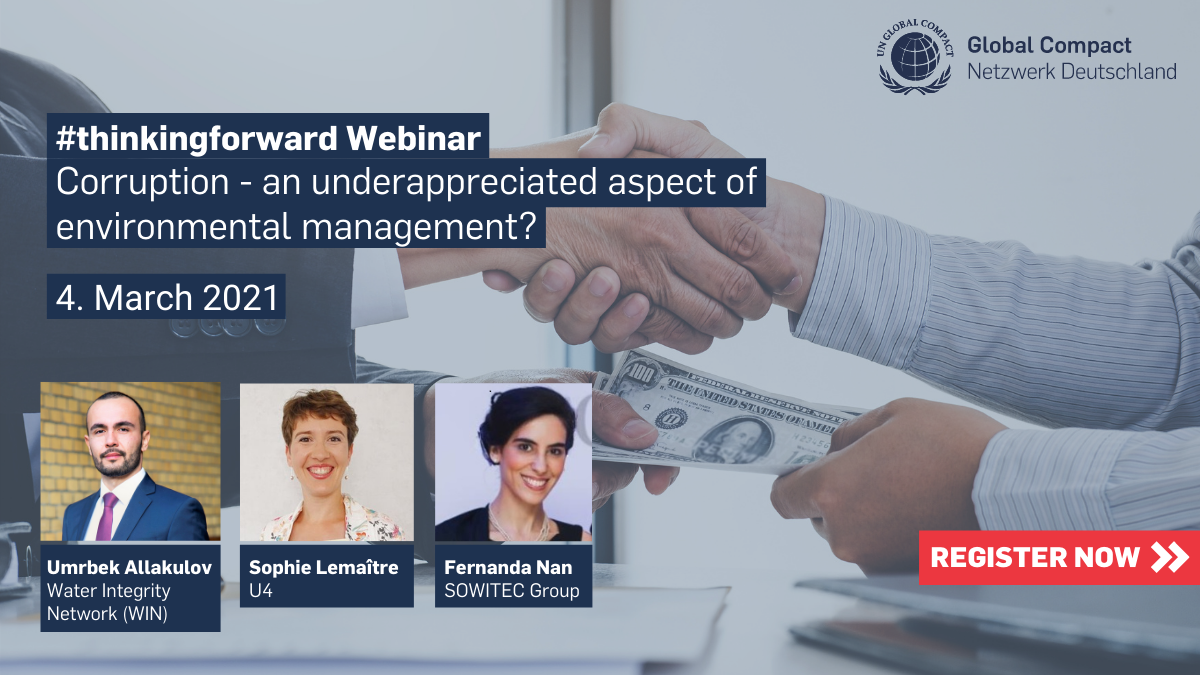 DGCN DIALOGSERIE #WEITERGEDACHT #THINKINGFORWARD WEBINAR: CORRUPTION – AN UNDERAPPRECIATED ASPECT OF ENVIRONMENTAL MANAGEMENT?
März 4 @ 10:00 am

-

11:30 am

|

Kostenlos
Not least due to growing public attention, both environmental management and the fight against corruption are becoming increasingly important for the business community. In the corporate context, the two issues are usually addressed separately. However, as corruption activities often serve as a crucial door opener for environmental crimes to happen, addressing them jointly appears to be a particularly fruitful basis for discussion.
Especially recent years have seen a steady increase in environmental costs for businesses, while public funding for environmental protection measures has risen. As a consequence of more money in the system and the benefits at stake, the financial incentives for corruption are likely to rise further. It is, thus, more important than ever to jointly address cause-and-effect relations in this context.
In GCNG's #thinkingahead dialog series (#weitergedacht), speakers from different backgrounds share their expertise and debate familiar topics from a new perspective. This dialogue is dedicated to the nexus of environment and corruption. The discussion will revolve around, but is not limited to, the following questions:
What are causal links between corruption and environmental issues? Should companies address these links?
Where are the main risks that make environmental activities particularly vulnerable to corruption?
What (trans-)national best-practice examples exist in preventing corruption in the context of environmental crime?
We very much look forward to welcoming the following speakers:
Sophie Lemaître, Senior Advisor, U4
Umrbek Allakulov, Research and Evidence Coordinator, Water Integrity Network (WIN)
Fernanda Nan, Global ESG Compliance Manager, SOWITEC Group
The webinar targets companies as well as interested representatives from other stakeholder groups (civil society, politics, science, etc.), and attendance is free of charge.